Geo News is "The" top rated News of Pakistan having Leading Journalists like Kamran Khan, Hamid Mir, Sohail Warraich are affiliated with GEO since the beginning of their Journey. GEO is largely followed all over the country for breaking news and regarded as most trust worthy channel. In most of the cases, GEO is synonym to breaking news. Its current affairs programs such as Capital Talk, Aj Kamran Khan Kay Sath, Aapas ki Baat and Jirga are widely followed and appreciated in the country.
Khabarnak, Hum Sab Umeed se Hain & BNN are some of the most popular socio-political satire shows in the country.
| Time Slot | Gross Rate/Min in USD | TARIFF RATES/MIN in Pkr |
| --- | --- | --- |
| 00:00 - 00:59 | $471.11 | 75,000 Pkr |
| 1:00 - 1:59 | $94.22 | 15,000 Pkr |
| 02:00 - 06:59 | $54.96 | 8,750 Pkr |
| 7:00 - 11:59 | $188.44 | 30,000 Pkr |
| 12:00 - 17:59 | $251.26 | 40,000 Pkr |
| 18:00 - 18:59 | $314.07 | 50,000 Pkr |
| 19:00 - 19:59 | $596.73 | 95,000 Pkr |
| 20:00 - 20:59 | $1036.43 | 165,000 Pkr |
| 21:00 - 21:59 | $1381.91 | 220,000 Pkr |
| 22:00 - 22:59 | $1005.03 | 160,000 Pkr |
| 23:00 - 23:59 | $628.14 | 100,000 Pkr |
• Geo Television Network is a Pakistani pay television channel established in May 2002 and owned by the Jang Media Group. The channel began test transmission on 14 August 2002, with regular transmission beginning 1 October 2002.
• The Geo Television Network started out with the launch of its flagship channel Geo TV in October 2002 but has since launched several other channels which include the following: GEO TV Entertainment, GEO News, GEO Kahani, GEO Super (Sports) and GEO Tez (Comedy).
"Geo News" is Leading on both Total Ind and C&S Ind
• Meray Mutabiq
• Aapas ki Baat
• Capital Talk
• Report Card (talk show)
• Naya Pakistan
• Aaj Shahzeb Khanzada Kay Sath
• Jirga with Saleem Safi
• Khabarnaak
• SCORE
• Geo Pakistan Morning Show
• Lekin
• Aik Din Geo Kay Sath with Sohail Warraich
Meray Mutabiq is an opinionated program whose core objective is to get a critical and realistic analysis of the multiple challenges facing today's Pakistan. This program revolves around the expert opinion of country's leading journalist /analyst / intellectual Mr Hassan Nisar on the subjects ranging from politico-economic and socio-cultural issues to the issues of national and international importance.
Timings
Every Sunday 6:30 PM
Repeat: Next day 9:30 AM
Apas ki Baat Muneeb farooq Kay Sath is an airing show on Geo News which airs from Monday to Wednesday at 11:00pm–12:00am. The show gives political analysis on current affairs of Pakistan. The show cast also predicts about future of political affairs in show under the given limits and code of conduct of channel. This airing show is considered to be one of the most successful and popular airing show of country. Aapas ki Baat is a discussion-based talk show which is different from usual format of Pakistani talk shows. Muneeb farooq expresses his views in and draws attention to the happenings in the political area of Pakistan.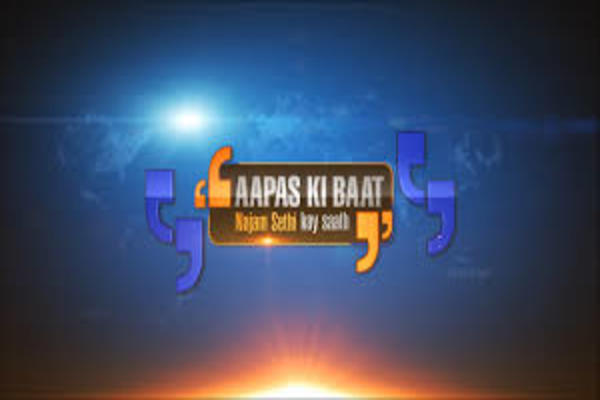 Capital Talk is the flagship program of Geo News which is a one-hour debate on political events which was hosted by Hamid Mir. Capital Talk looks at the challenges, issues and concerns facing Pakistan on a daily basis. The format includes a panelist who participate in a dialogue. It is broadcast four days a week (Monday to Thursday) on Geo News.Launched in 2002, it is the oldest current events program in Pakistan.
Report Card is a flagship Geo News program which is a roundup of the most important news items throughout the day discussed objectively with leading analysts and opinion makers. Six analysts, two questions and two minutes each, hosted by Alina Farooq.It is broadcast five days a week (Monday to Saturday) on GEO News. Launched in 2015 where Imtiaz Alam, Hassan Nisar, Mazhar Abbas, Irshad Bhatti, answer Ayesha Bakhsh question.
Shahzad Iqbal is a Pakistani journalist and YouTuber who hosted a prime time current affairs talk show on Geo News titled Naya Pakistan with Shahzad Iqbal.
Timings
20:00-20:59
Friday to Sunday
Aaj Shahzeb Khanzada Kay Sath
Aaj Shahzeb Khanzada Kay Sath (previously Aaj Kamran Khan Kay Sath) is a Pakistani television evening current affairs talk show broadcasting on Geo News every Monday to Friday. The show is hosted by Shahzeb Khanzada. Previously, directed by Junaid Mumtaz and produced by Asmat Mallick. Shahzaib Khanzada is a Former anchorperson of Express TV. Shahzaib Khanzada received best Anchor person Award for 2013, in the ceremony organized by Pakistan media Award.
Jirga with Saleem Safi or Jirga is a television current affairs talk show on Geo News, broadcast from Islamabad every Saturday and Sunday from 10:05 PM to 11:05 PM. The program is hosted by Saleem Safi
Khabarnaak is an Urdu and Punjabi comedy television show hosted by Ayesha Jahanzeb alongside Mir Mohammad Ali With Replace Irshad Bhatti Journalist that airs on GEO News.
SCORE is a Pakistani sports talk show hosted by Yahya Hussaini that is broadcast on Geo TV. It is written by Khursheed Alam and directed by Farrukh Suleman. The show debuted in February 2011.
Timings
17:05-17:30
Monday-Friday.
Ek Din Geo k Sath is a Geo News television series, featuring interviews of politicians, film stars, musicians and athletes. It is hosted by Sohail Warraich.The host and team start the show in the morning by meeting the guest. They go with the subject to his or her workplace and home, meeting their friends and relatives who are also invited to comment about the main guest personality of the show. This TV show also shows footage of everyday activities.