Dunya TV is a Leading News Channel. This channel is arguably the second most viewed channel in Pakistan. Channel is known for its unbiased news and analysis, countrywide news network and some famous talk shows. Dunya News is also famous for its Satirical TV Show "Hasb-e-Haal" worldwide.
News @ 8 with Malik (Mohammad Malik) is another highly viewed, liked & Critically Acclaimed Show.

| Time Slot | Gross Rate/Min in USD | TARIFF RATES/MIN in Pkr |
| --- | --- | --- |
| 00:00 - 00:59 | $226.13 | 36,000 Pkr |
| 01:00 - 06:59 | $60.3 | 9,600 Pkr |
| 07:00 - 07:59 | $75.38 | 12,000 Pkr |
| 08:00 - 16:59 | $263.82 | 42,000 Pkr |
| 17:00 - 17:59 | $301.51 | 48,000 Pkr |
| 18:00 - 18:59 | | |
| 19:00 - 19:59 | $452.26 | 72,000 Pkr |
| 20:00 - 21:59 | $753.77 | 120,000 Pkr |
| 22:00 - 22:59 | $527.64 | 84,000 Pkr |
| 23:00 - 23:59 | $1130.65 | 180,000 Pkr |
| Dunya Kamran Khan Ke Sath | $1884.42 | 300,000 Pkr |
DUNYA NEWS is a twenty-four hours Urdu language news and current affairs television channel from Pakistan. It is operated by the National Communication Services Pvt. Ltd. Its head office is situated at Lahore, Pakistan. Dunya News was founded and is owned by Pakistani businessman and politician Mian Amer Mahmood, and is part of the larger Punjab Group of Colleges (PGC) group of universities, colleges and organizations.
Dunya News reach AvRch% from 1 May 2020 to 31 May 2020 is 16%.
DUNYA NEWS Shows Ratings Rtg%
In the monthly overall rating for the month of September Dunya News is on lead with 0.256 Rtg%.
There are several programs running in Dunya News some of them are as follows:
DUNYA KAMRAN KHAN KAY SATH
DUNYA KAMRAN KHAN KAY SATH is a television current affairs talk show on Dunya News. It is one of the most watched and influential current affairs shows on Pakistan's Dunya News TV channel. The program is hosted by Pakistan's renowned investigative journalist, Kamran Khan. Mr. Khan has been part of the country's media industry for 34 years. His show tries to untangle the twists and turns of Pakistani politics, social and economic issues. The program covers major national, regional and international stories through a combination of high-profile interviews, special reports, commentary and analysis. It is broadcast live from Karachi from 9:30 to 11:00 pm,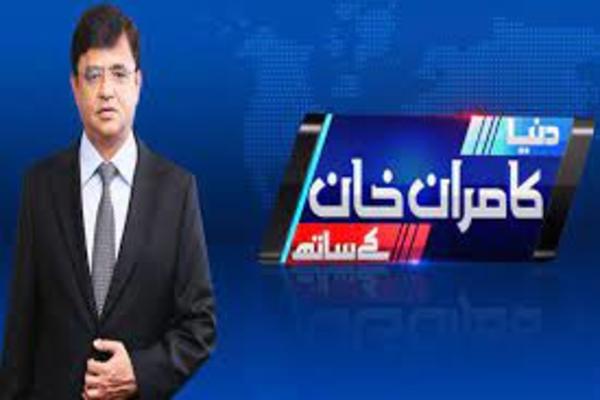 HASB-E-HAAL is comedy show based on political satire that airs on Dunya TV at 11:05 pm from Thursday to Sunday. It stars Sohail Ahmed, Junaid Saleem, Amanat Chan, Nawaz Anjum, Jiya Dilnawaz, Zulfi Ali and Goga Ji. This program was first started by Aftab Iqbal as an anchor with Najia Baig as co-anchor and Sohail Ahmed as a guest. Sohail Ahmed was awarded the Presidential Pride of Performance award by Asif Zardari on 23 March 2011 for his performance on the show. The concept of Hasb-e-Haal is it is a comedy program that offers commentary and satire on current affairs. Sohail Ahmed plays the character of a lower-middle-class man who is frequently reprimanded by Junaid Saleem because of his broad generalizations and over-simplification of complex political issues. Jiya Dilnawaz offers queues for laugh lines and reads viewer's comments in the show.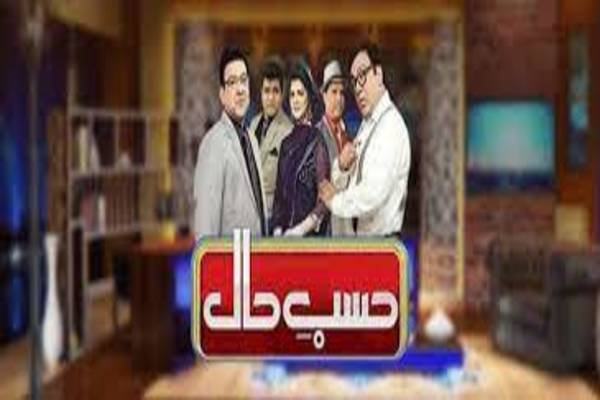 MAZAAQ RAAT is a Pakistani television talk show hosted by Vasay Chaudhry on Dunya TV. Vasay Chaudhry hosts the show, with the Mazaaq Raati team consisting of Qaiser Pia, Akram Udaas, Iftikhar Thakur, Hiba Waqar, and Aoun Ali Khan. Veteran Actor Noman Ijaz hosted the show from 2013 to 2015. It has more than 1000 episodes and still continued. Its running time is almost from 35 to 40 minutes. This show on air on Mon-Wed at 11PM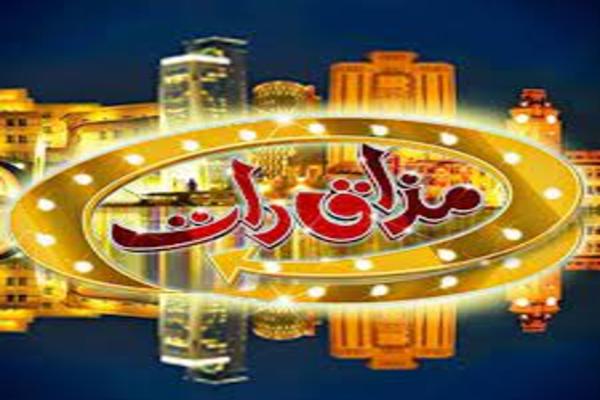 ON THE FRONT is a tri-weekly news program currently airing on the Dunya News television channel, broadcast from Pakistan. The show is hosted by Pakistani news personality and analyst Kamran Shahid. It currently runs from Monday to Thursday at 8:03PM. The show can be viewed online on the Dunya News website. The show format is currently roughly 60 minutes in length sans commercial breaks. It starts with a monologue from the anchor (Shahid) on the topic in consideration (usually complemented by an audio/visual element), providing context on the topic at hand. The debate then opens up to a group of individuals who have knowledge on the issue, and often from different political affiliations and socio-economic demographics.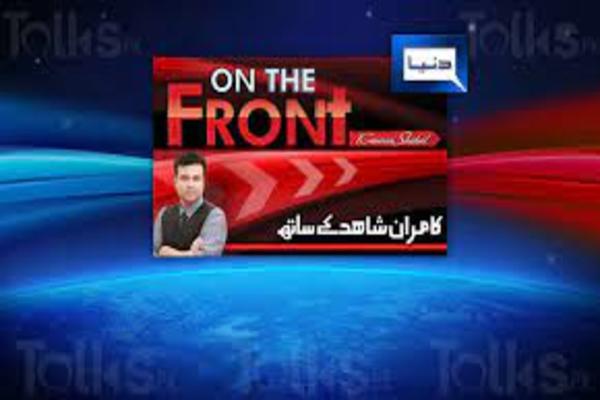 THINK TANK is a show on Dunya news hosted by Syeda Ayesha Naaz. They talk about the current affairs on the talk show on Dunya News. 31 Year Old Ayesha Naaz is a Most Beautiful News Anchor in Pakistan, Her Birth of Date is 18th December 1987, her Real Name is Syeda Ayesha Naaz and Nick name is Ayesha. She is married and she has a very cute a child. Syeda Ayesha Naaz belongs to a Syed Family and she is from Lahore, Punjab, Pakistan.
NUQTA E NAZAR is a program hosted by Mujeeb-ur-Rehman. It's one of the really good talk show on Dunya news. Mujeeb-ur-Rehman Shami is a Pakistani journalist and columnist who is the chief editor of Daily Pakistan newspaper. He appears on the talk show Nuqta e Nazar on Dunya News. He is also the founder of Zindgi Magazine and Qomi Digest. His columns are published in Daily Dunya and Daily Pakistan every Sunday. This show on aired on Mon-Thu at 7PM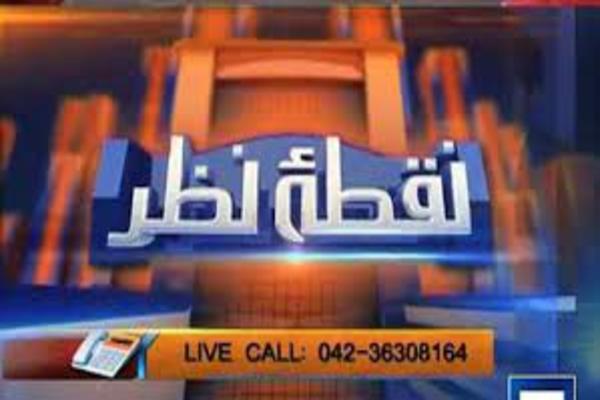 PAYAM-E-SUBH is a show hosted by Aneeq Ahmad which is a very good and authentic Islamic knowledge Program on dunya news. Aneeq Ahmed is a TV anchor, host on Dunya TV popular for his religious show Payam-E-Subh. Born in Karachi, Aneeq Ahmed graduated from Karachi University in International Relations. He started his career from PTV in 1999, joined GEO in 2002 then moved to ARY in 2005. He has been with DUNYA TV since June, 2011. He successfully brought sensitive socio-religious topics into public debate through over 2000 programs, largely live, on television. His program ALIF was pioneering religious content on GEO TV that daringly discussed issues pertaining to religion and life for 3 years.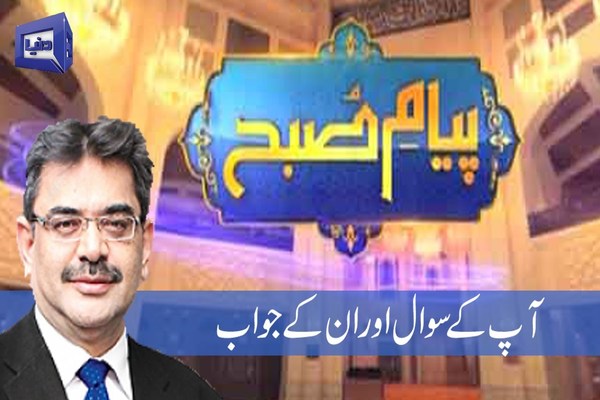 SAWAL AWAM KA is a TV program one to one exclusive interview hosted by Masood Raza. The Famous TV anchor Masood Raza graduated from Karachi University. He did his studies in Applied Chemistry. Masood was quiet active student in his university days; he not only participated in Debate competitions but also poetic gatherings. Masood was considered to be the pride of Karachi University in his times. He also worked for Bazm-e-Talba a show at Radio Pakistan. This Show is on aired on Sat-Sun at 10PM
This show is hosted by Habib Akram, Saad Rasool and Ume Rehab. This show on aired on Fri-Sun at 7PM