ARY News is one of the oldes News Channels in Pakistan; coming from one of the oldest electronic media groups in the country. ARY News has outstanding viewership trends specially in the southern parts of the country. Channel also provides reasonable volume of local news from Karachi and Hyderabad region along with the routine transmission of breaking news and talk shows. Chanel is also largely followed in Western Europe, North America and Middle East.
•Off the Record hosted by Kashif Abbasi, 11th Hour hosted by Wasim Badami and Sawal Ye Hay hosted by Dr. Danish are the most popular Talk Shows of ARY News.
| Time Slot | Gross Rate/Min in USD | TARIFF RATES/MIN in Pkr |
| --- | --- | --- |
| 00:00 - 00:59 | $157.04 | 25,000 Pkr |
| 01:00 - 07:59 | $125.63 | 20,000 Pkr |
| 08:00 - 08:59 | $157.04 | 25,000 Pkr |
| 09:00 - 10:59 | $251.26 | 40,000 Pkr |
| 11:00 - 17:59 | $219.85 | 35,000 Pkr |
| 18:00 - 18:59 | $251.26 | 40,000 Pkr |
| 19:00 - 19:59 | $502.51 | 80,000 Pkr |
| 20:00 - 22:59 | $942.21 | 150,000 Pkr |
| 23:00 - 23:59 | $502.51 | 80,000 Pkr |
ARY News is a Pakistani news channel launched on 26 September 2004. A bilingual news channel in English and Urdu, it is a part of the ARY Digital Network, which is a subsidiary of ARY Group. ARY is an acronym of Abdul Razzak Yaqoob, who was the owner of ARY Group.
In the monthly overall rating for the month of May ARY news rating is 0.389 Rtg%.
| Show | Host Name | RTG% | Share |
| --- | --- | --- | --- |
| Power play | Arshad Shareef | 2.15 | 6.9 1 |
| The Reporters | Sabir Shakir | 1.97 | 6.9 |
| 11th Hour | Waseem Badami | 1.96 | 5.7 |
| Off The Record | Kashif Abbassi | 1.33 | 4.0 |
HAMARE MEHMAN is a show in which the host invites eminent personalities from different backgrounds to discuss various important issues that broadcast on ARY news at 7:03 pm every Sunday. Fiza Shoaib, TV Host & A 'Courageous' Single Mother is the host of this program.
AITRAZ HAI is a show on ARY news hosted by Adil Abbasi which broadcast on the channel every Friday and Saturday at 8:03 PM. It's a show in which the hosts raises a problem and do a debate on that with some politicians or person involving that situation.
11TH HOUR WITH WASEEM BADAMI
11TH HOUR WITH WASEEM BADAMI is a show hosted by Waseem Badami from Monday to Thursday at 11:03 pm. Badami started his career by giving traffic updates on radio during that he was studying at SZABIST. After that he joined Business Plus channel as a researcher. Later his sheer hard work gave him reward and out of thousands of people he got selected for ARY News in 2006 and there he started his career as a journalist and an anchor person. Later, he left the channel in October 2014 and subsequently joined BOL Network as an Executive Vice President and Senior Anchorperson. In April 2015, he resigned from BOL Network and rejoined ARY News. He is currently hosting the popular talk show "11th Hour" on ARY News. He also hosts Shan-e-Ramazan on ARY Digital. He is famous for his "Masoomana Sawal" which has become his identity. He also hosts a game show "Har Lamha Purjosh" And excelling in that too. No wonder he is jack of all trades and master of all too. In 2017, Badami partnered up with Hemani Herbals and launched organic products and skin care brand named "WB" after his initials. The product was launched in Dubai followed by Karachi.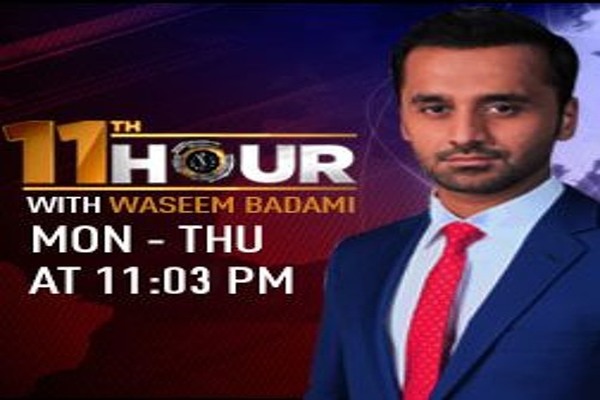 Criminal Most Wanted is a Crime show hosted by Ali Raza. This show creates the dramatization of criminal activities. This show on aired on Sunday at 8PM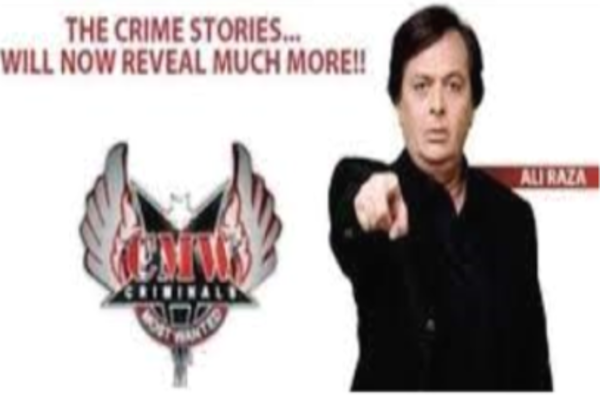 SAR E AAM is a Pakistani television show, aired on ARY News and hosted by Syed Iqrar ul Hassan. The show is broadcast at 7 pm to 8 pm Every Friday & Saturday on ARY News and famous for exposing corrupt and unauthentic products/public services like poorly manufactured products, disguising famous company names, etc. The episodes differ greatly; episodes exposing dark sides of the community are also aired. The general idea of the program is to show the public whatever is happening under their eyes so that they are aware of those guilty of these crimes. The program is also famous for the seal up and permanent closure of many fake industries, illegal home businesses, and figures misleading the people. The team comprises up of informers who are paid for every information of illegal activity, cameramen, the host himself and other necessary people for the recording of a show. Iqrar Ul Hassan Syed is a television presenter and journalist. He has worked at ARY News for many years. Previously a newscaster, he now hosts this program.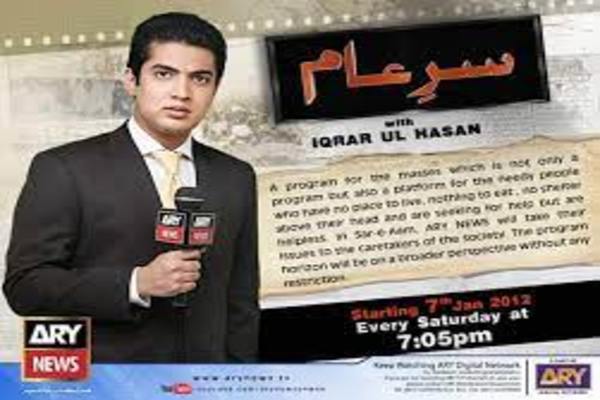 SAWAL YEH HAI is a show hosted by Maria Memon from Friday to Sunday at 10:03 pm. Maria Memon is a Pakistani journalist, newscaster, currently working as an anchor for ARY News. Before joining media, she graduated with a degree in software engineering from Hamdard University. She was hired to work as a coordinator for Najam Sethi's show on Geo English after her graduation. When the show was cancelled, she then worked as field reporter for Geo. She worked at Geo News as an anchor where she hosted a show named Meray Mutabiq with Hassan Nisar and Sohail Warraich. She left Geo TV in 2015 to join Bol network. She is currently working with ARY News as senior anchor for show Sawal Yeh Hai and content manager.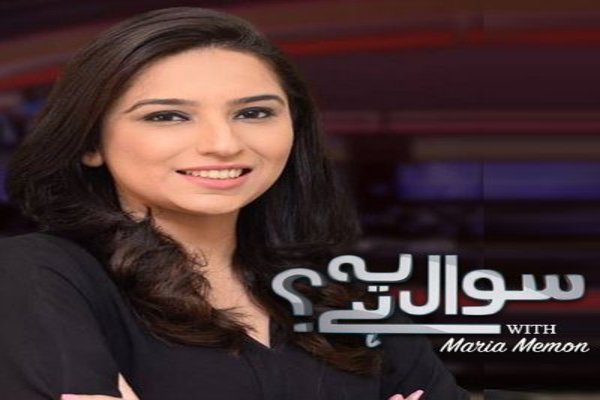 THE REPORTERS a well-known show of Ary News hosted by Sabir Shakir. Sabir Shakir is a well-known News Personality of Pakistani Media Industry. Shakir was born in Lahore and completed his university studies in the field of journalism. He put his step forward in his professional life by appearing in many private News channels. Sabir is currently working under ARY NEWS as an anchor and a journalist by showing his outstanding skills he then emerged in the talk show The Reporters. Journalist with more than 20 years of serving in print and electronic media. Bureau chief in Pakistan's largest media network ARY News in Islamabad Bureau. This Show on aired on Mon-Thu at 7 PM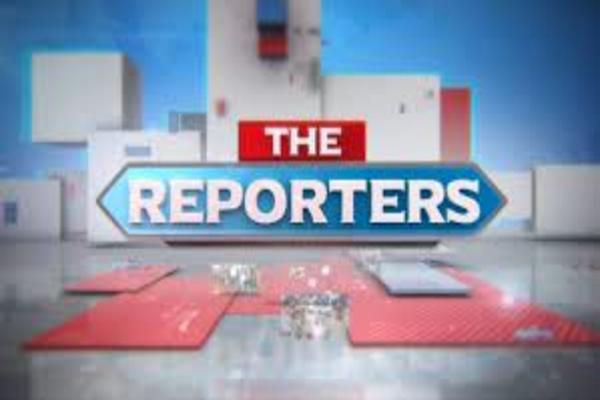 OFF THE RECORD is a show hosted by Kashif Abasi who is a Pakistani journalist, television talk show host and anchorperson based in Islamabad. He hosts the current affairs talk show Off the Record on ARY News. He is a graduate of the Barani Institute of Information Technology in Rawalpindi. In November 2011, Abbasi announced his marriage with Dunya News journalist Meher Bukhari. In June 2012, his wife became involved in a mediagate scandal involving property tycoon Malik Riaz. In January 2020, Pakistan Electronic Media Regulatory Authority banned the broadcast of Abbasi's programme 'Off the Record' on ARY News for 60 days, following Faisal Vawda's appearance on his show alongside Qamar Zaman Kaira and Senator Muhammad Javed Abbasi. The show broadcast from Monday to Thursday at 8:03 pm.
This is an entertainment show hosted by Haroon Rafiq. This show is on aired on fri-sat at 11PM
SPORTS ROOM is a show hosted by Najeeb ul Hussain from Monday to Wednesday at 5:30 pm and on Thursday at 5PM
POWER PLAY is a show hosted by Arshad Sharif from Monday to Thursday at 10:03 pm.
Sports Special Room Jahan Been is hosted by Faisal Ali Khan. It is on aired on Friday at 5 PM