"Bulbulay" a sitcom that has become immensely popular among the whole Media & Audience hemisphere, watching it has almost become a part of the family now, is aired on ARY Digital. ARY Digital's Morning Show Good Morning Pakistan.
| Time Slot | Gross Rate/Min in USD | TARIFF RATES/MIN in Pkr |
| --- | --- | --- |
| 00:00 - 1:00 | $933.13 | 150,000 Pkr |
| 01:00 - 02:00 | $559.88 | 90,000 Pkr |
| 02:00 - 09:00 | $373.25 | 60,000 Pkr |
| 09:00 - 11:30 | $933.13 | 150,000 Pkr |
| 11:30 - 16:00 | $777.6 | 125,000 Pkr |
| 16:00 - 18:00 | $933.13 | 150,000 Pkr |
| 18:00 - 19:00 | $1244.17 | 200,000 Pkr |
| 19:00 - 20:00 | $2177.29 | 350,000 Pkr |
| 20:00 - 22:00 | $2799.38 | 450,000 Pkr |
| 22:00 - 23:00 | $2177.29 | 350,000 Pkr |
| 23:00 - 00:00 | $1244.17 | 200,000 Pkr |
| Jeeto Pakistan | $2799.38 | 450,000 Pkr |
GST will be over & above the mentioned rates.
ARY DIGITAL is a Pakistani television network available in Pakistan, the Middle East, North America, and Europe. The ARY Group of companies is a Dubai-based holding company founded by a Pakistani businessman, Abdul Razzak Yaqoob. The network is focused on Pakistani dispersion. The channel has an expanding network of channels, each with an independent focus.
Host: Nida Yasir.
Every Monday – Friday at 9:00 AM.
Good Morning Pakistan is your first source of entertainment as soon as you wake up in the morning, keeping you energized for the rest of the day.
Timings: Monday to sunday at 7:00 PM.
Story of two twin sisters Aiza and Aimal, who are orphan and living with their step father, despite having the real father, who left them before they were born.
Timings: Monday at 8:00 PM.
Baddua is the story of a girl, Abeer who is a charmer and with her good looks appeal boys. She likes Junaid who is also flirtatious by nature.
Timing:Monday-Thursday at 9:00PM.
Mein Hari Piya is the story of a girl who is happily married but is unable to become a mother. Sara despite having all the support from her husband and her mother-in-law, gets disheartened.
Timing:Tuesday at 8:00 pm.
Amanat is a story based on values and principles. Zarar is caretaking his friends' wife upon his request. In the wake of his sudden death, Zarar is left with no choice but to marry her to provide shelter and security. However, Zarar's love interest, out of revenge, marries his younger brother.
Timing:Thursday at 8:00 PM.
The story of a married couple Aman and Sumbul, who are trying to make up for lost time while dealing with supernatural forces.
Timing:Wednesday at 8:00 pm.
Story of simple girl and a rich boy who fell in love with each other. Despite from different backgrounds and family pressures Irteza and Sabeen wants to marry each other.
Timing:Saturday at 8:00 pm.
Based on the inspiring true story of Pakistan Army's first female Three Star (⭐⭐⭐) General. '𝗔𝗶𝗸 𝗛𝗮𝗶 𝗡𝗶𝗴𝗮𝗿' traces the life and career of 𝗟𝗶𝗲𝘂𝘁𝗲𝗻𝗮𝗻𝘁 𝗚𝗲𝗻𝗲𝗿𝗮𝗹 𝗡𝗶𝗴𝗮𝗿 𝗝𝗼𝗵𝗮𝗿, a name synonymous to strength, determination and professional excellence. Gen Nigar Johar rose through the ranks of Pakistan Army and continues to have a meritorious service. She overcame personal tragedy and societal pressures to break the glass ceiling for all the women of the country. A tribute to one of the biggest symbols of women empowerment in Pakistan – AIK HAI NIGAR.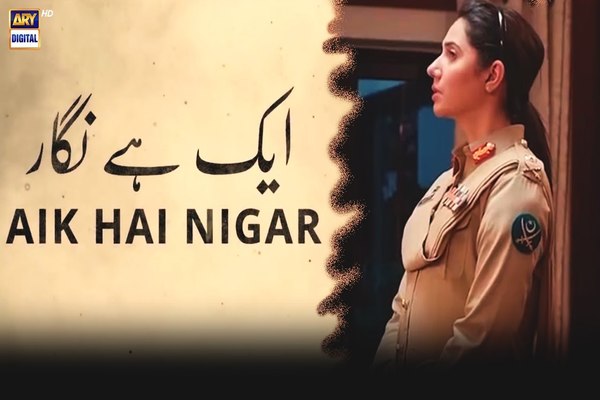 Timing:Sunday at 6:30 pm.
BULBULAY 2 is a 2019 Pakistani Sitcom aired on ARY Digital which is about an unconventional family. It is a successor to the first BULBULAY. The show airs on ARY Digital in Pakistan, every Sunday. The show is produced by Nabeel and written by Saba Hassan. The show was directed by Rana Rizwan before he was replaced by Nabeel. It started airing from 4 June 2019 and currently airs every Sunday. Its 24th and 23rd episode have the highest and 2nd highest ever ratings of any Sitcom. The show gained popularity after the introduction of Hina Dilpazeer, who plays Mumtaz (Momo). BULBULAY was first aired on 22 October 2009 on ARY Digital and was later broadcast on ARY Digital in the UK. It is a successful sitcom with a high TRP, and it holds the record for the longest-running television series of Pakistan.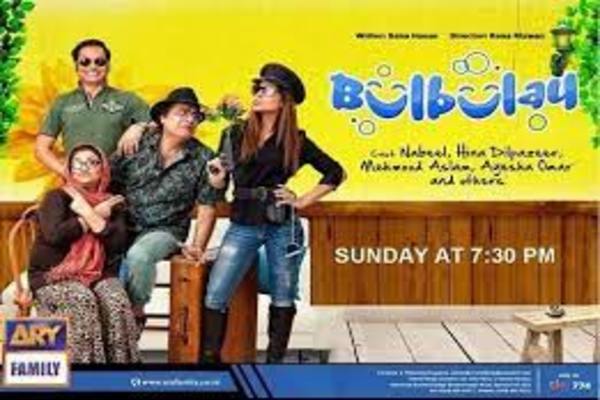 JEETO PAKISTAN is a Pakistani game show, hosted by actor Fahad Mustafa on ARY Digital. The show was launched on 18 May 2014. It has been called the "biggest game show" of Pakistan. Jeeto Pakistan's participants are selected randomly from a studio audience, who require passes to attend the show. The show is divided into several segments, each one offering contestants prizes in return for achieving a set of challenges or game tasks given by the host. The prizes offered range from cars and motorcycles to gold, cash, vacation packages and household items. The show is funded by sponsors, advertisers and commercial brands. Jeeto Pakistan is occasionally broadcast from other cities, with some shows having been held in Lahore, Islamabad, Faisalabad, Multan and Dubai. During the month of Ramadan every year, the show runs a daily transmission in the evening.